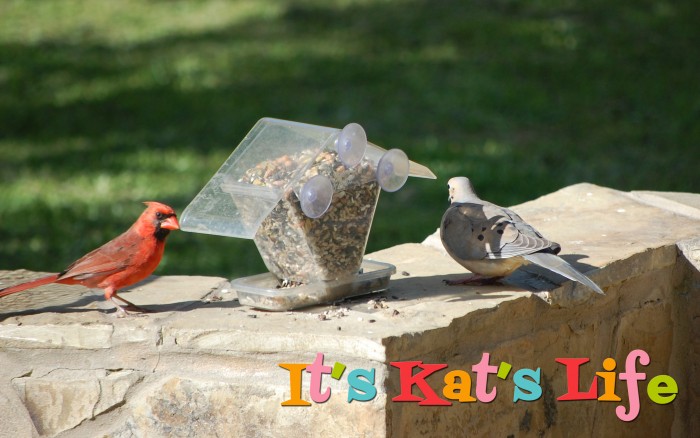 I woke this morning heavy hearted after the weather events here in North Texas. I am reminded each morning no matter how terrifying a night of bad Texas storms can be, that the sun will rise again.
Scriptural quotes for reassurance:
 Luke 1:78 (NIV)"because of the tender mercy of our God,
by which the rising sun will come to us from heaven"
Lamentations 3:23 (NIV) "They are new every morning;
great is your faithfulness."
Confessions of a Closet Birdwatcher: I always thought "bird watching" was for the birds. I couldn't believe people actually spent time doing that. Over the past 6 months, I put a wasted bird feeder that is supposed to hang on the window to good use. The feeder will not stay on a window even when empty. One day, I placed it on the corner of the patio loaded with bird seed and believe me when I say, "feed them and they will come".  I now see birds of every shape and color and some days the Morning Doves come in droves. I counted 13 at one time. Both the Cardinal and the Dove remind me of God's mercies that come each morning. They are beautiful reminders of His grace and mercy. No matter how undeserving we think we are, His grace is always abundant. No matter how bleak a situation may seem, He is always present.
If you feel so led, to assist with the Disaster Relief here in North Texas – donate to the Red Cross.